FIELD CHURCH
(Feldkirche-St Ulrich & St Afra,Patrons of the Diocese of Augsburg)
MASS IN FELDKIRCHE FOR FEAST OF ST ULRICH
(4th July 2009)

Twice a year the church of St Ulrich & St Afra is open.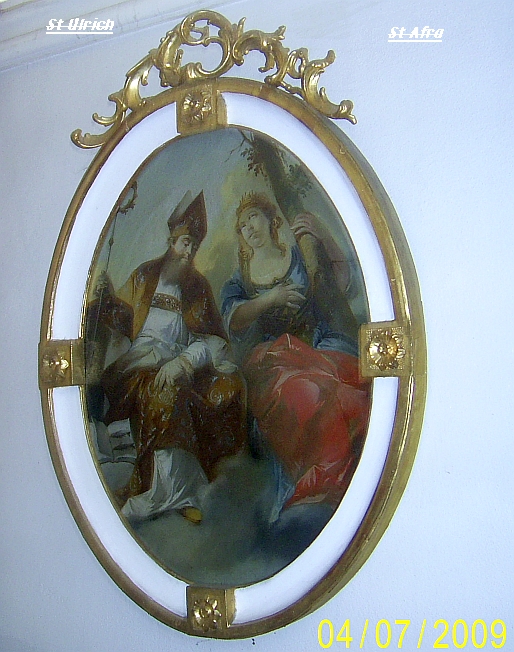 The 4th July 2009,Feast of St Ulrich,Patron of the Diocese of Augsburg,Parish Priest & Dean,Father Frank Deuring celebrated the Holy Mass in the "Feldkirche".The organ was not used but led by Alfred Vogler,Sacristan, the church reverbarated with the joyful sound of the hymns being sung..It was an honour to be part of this great celebration.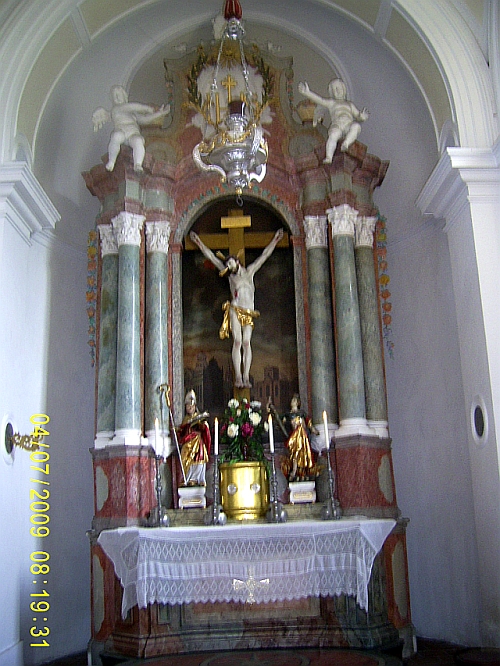 THE CHURCH IS ONLY USED ONCE OR TWICE A YEAR FOR HOLY MASS
Photo below: inside the Feldkirche.
FEAST OF 1ST CANONISED SAINT FROM OUTSIDE ROME CELEBRATED IN THE FELDKIRCHE!(4 July 2008)

Wednesday 4th July may be important to Americans,but its also an important date in Germany.St Udalric, Bishop of Augsburg,was the first saint outside of Rome to be canonised in 993 by Pope John XV.He is also known as Ulrich,Uodalric or Odalrici.He was born in Zurich in 890.He lived in simplicity and poverty dispite having a Count for his father.At an early age he wanted to become a priest.He helped to lift the low moral and social conditions of clergy in the Diocese after he was made Bishop.He also rigidly enforced adherance to Church laws.He made frequent visitations throughout the Diocese and built many churches to enable all to be able to worship God.
He was canonised on 4th July 993 and hence the reason why many in Füssen attend Mass in the Feldkirche on his Feastday.
------------------------------------------------------------------------------------------------------------------------
The Right Hand Side of the Church
The Original Altar
The Left hand Side of the Church
The Choir Loft and Sacristy Entrance
RELIC OF ST ULRICH,BISHOP OF AUGSBURG