2ND OFFICIAL US PILGRIMAGE CHOOSES 142ND ANNIVERSARY OF SEELOS DEATH TO VISIT SHRINE IN FÜSSEN
(4th October 2009)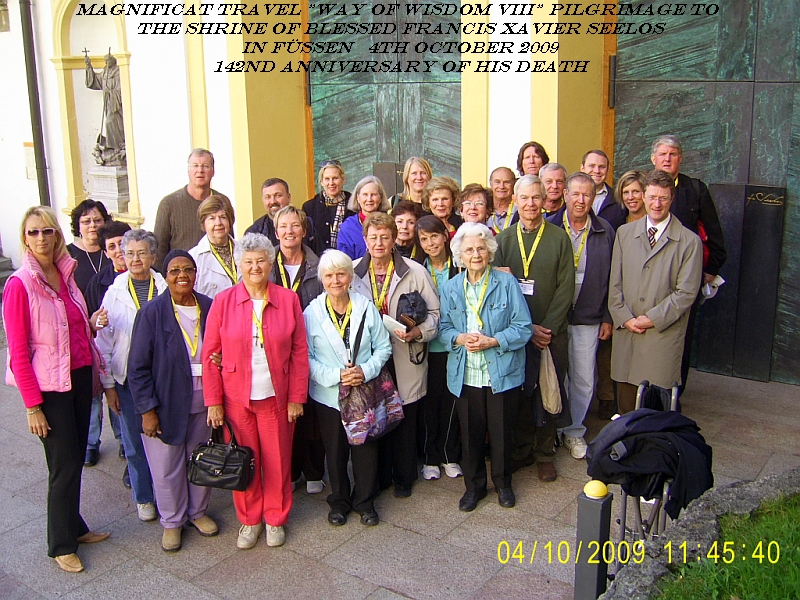 A group of 27 American Pilögrims led by Father Hampton Davis and Father Curtis Mallet arrived in Füssen on Sunday 4th October 2009.The two priests con-celebrated the 1030hrs Harvest Festival Mass in the Basilica of St Mang where Blessed Seelos was baptised 11th January 1919 the day of his birth.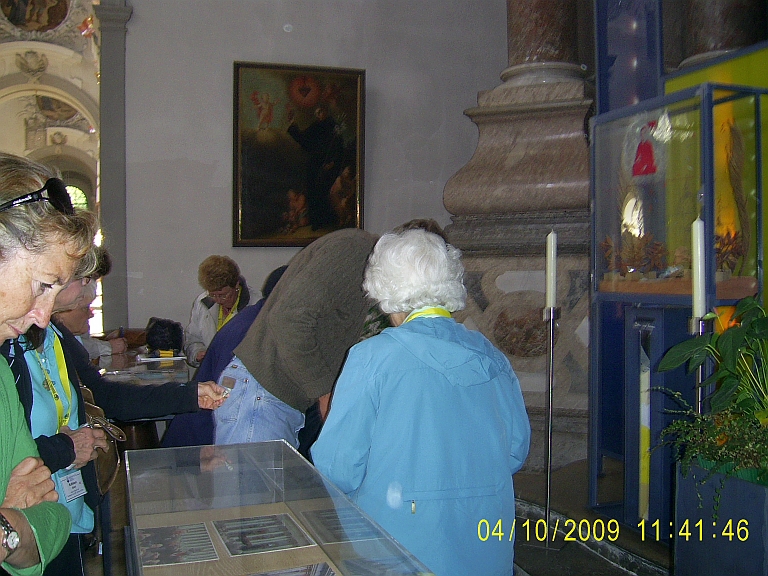 They were leading a Pilgrimage for Magnificat Travel which is visiting places in Austria,Switzerlans and Germany.As the group is from Louisiana it was only right that a visit to the German Shrine of Blessed Francis Xavier Seelos would be on the itinery.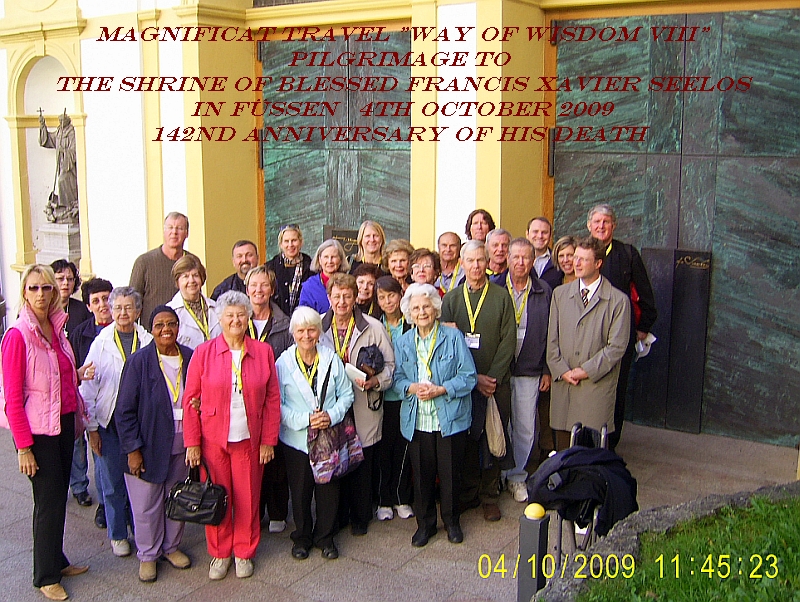 After Mass they gathered with Parish Priest of Füssen,Father Frank Deuring to have a group photo taken out side the Basilica beside the SEELOS DOOR.
The local paper sent George Rehm,who works in the Parish on social projects to cover the event for them.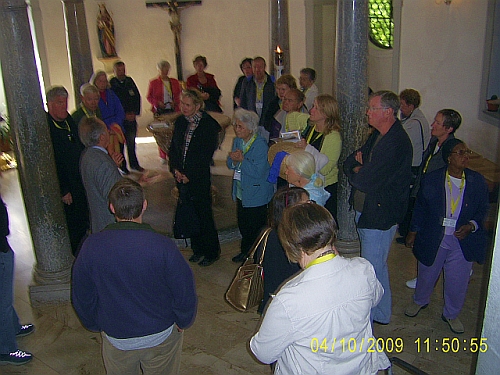 After the group photo one of the guides of the Basilica,Eduard Schopp gave the group a tour of Füssen which included the Shrine,The baptistry where Blessed Seelos was baptised.
A young child was about to be baptised whilst the group were there and Deacon Fredl Hofmann who was conducting the Baptism told the group that this was the very Baptismal Font where Seelos was baptised.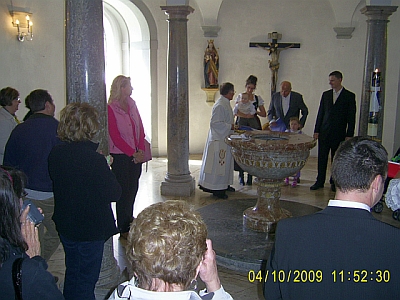 They then were shown the house where he lived when his father became sacristan of St Mang Basilica.Moving on around the corner they were shown the former Benedictine monastory of St Mang which was closed in 1803 due to secularisation.It is now the City Town Hall!.They were shown the outside of the Holy Spirit Hospital Church before turning left into the road where Blessed Seelos was born.After viewing the house which moved many to silent prayer,they walked up the hill to the old St Sebastian Cemetary where the Parents and family of the Blessed are buried.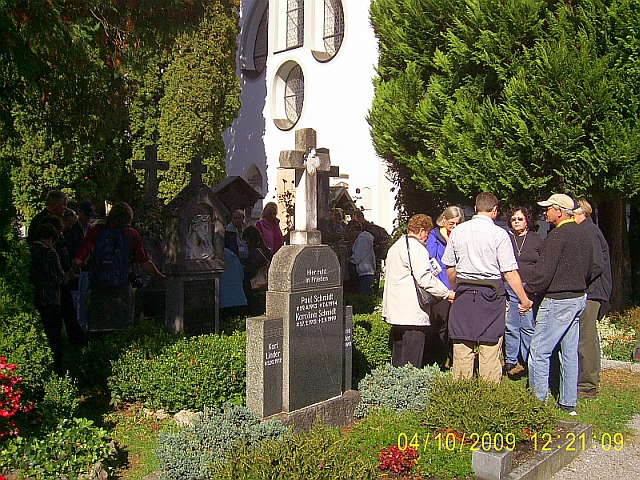 Following prayer led by Father Hampton Davis for the parents and family of Blessed Seelos and for all parents and families of those gathered,the group caught their bus to the local world famous castle of Neuschwanstein.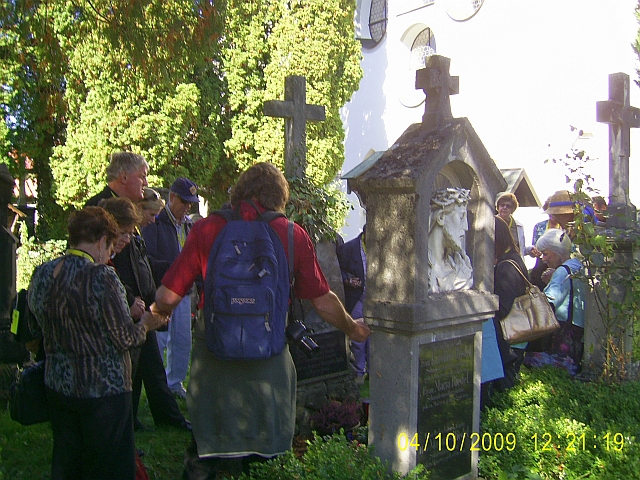 DID EMILE SIMONEAUX RECEIVE A MIRACULOUS CURE DUE TO BLESSED SEELOS?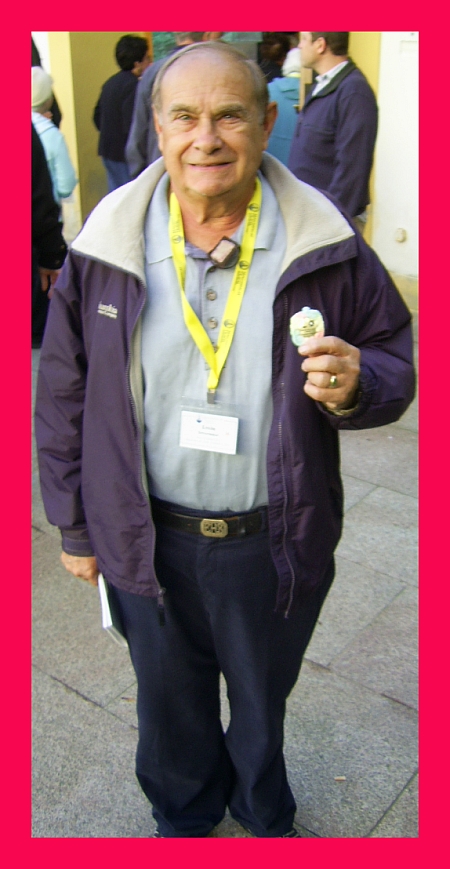 One of the pilgrims on the tour was Emile Simoneaux.He had been suffering an eye problem and had to undergo surgery.He took a third class Seelos relic in the operating threatre with him.Whilst undergoing the operation the whole theatre was suddenly illuminated with light.The surgeon was so amased that Emile was able to survive as the prognosis was so bad,He came to find out more about him.Emile's wife told us "It was a real miracle,they didnot expect Emile to survive and he did due to Blessed Francis Xavier Seelos".
HOW THE PILGRIMAGE WAS REPORTED IN THE ALLGÄUER ZEITUNG-FUSSENNER BLATT
(6 Oct 2009)